Petaling Jaya, 22 June 2023 – Over 60 VW Beetles and Kombis gathered at the open parking lot of CITTA Mall to commemorate World Beetle Day. Helmed by Khoo Teng Sen, the crowd (from greater Kuala Lumpur and neighbouring states) resembled a community of old friends and family, who were more than happy to exchange gear-head notes and share their love for the classic car with mall visitors.
Celebrating World Beetle Day was once just an affair of sticking a sign on car windows and driving around in Malaysia. When Alexander Gromow, Brazilian VW Beetle enthusiast, reached out to Teng Sen, the celebrations took a positive turn. Teng Sen created the June 22 – Drive Your VW to Work Day Facebook group, comprising a vast network of Beetle lovers, who now gather annually in the name of camaraderie, goodwill and good ol' fun!
John Tam, General Manager of CITTA Mall said, "It's the first time hosting World Beetle Day for us and we are glad to see the turn out and the enthusiasm for classic cars. The automotive world certainly has a way of bringing people together to share passion and build relationships, and we love being part of this."
The essence of community was accurately captured during the gathering today through a birthday celebration and moment of silence for an ardent member who recently passed away. Get to know the faces of the community through these Five Stories Behind the Wheel:
"I live to drive, but 'giving back' drives me." – Clifton
His passion for the Volkswagen Beetle goes beyond just getting behind the wheel and driving. Clifton drives to give back to the community – his cross-country group road trips involve raising funds, helping people from impoverished areas as well as bringing smiles to faces. "Sometimes if I see a sad or stressed face on the road, I give a friendly honk and smile at them. When they smile back, I know my job is done. It's a good feeling." Clifton's Beetle has made numerous trips across Asia (including Singapore, Thailand, Cambodia, Laos, Vietnam and the borders of Myanmar, India, and China). He purposely seeks out the toughest routes to test his mental strength and the car's endurance; in his recent three-day cross-country drive, he gave some top-tiered branded cars a run for their money. Beetles pack some speed!
"I bought it right before Covid, and finally it's out from the shop and the road!" – Darren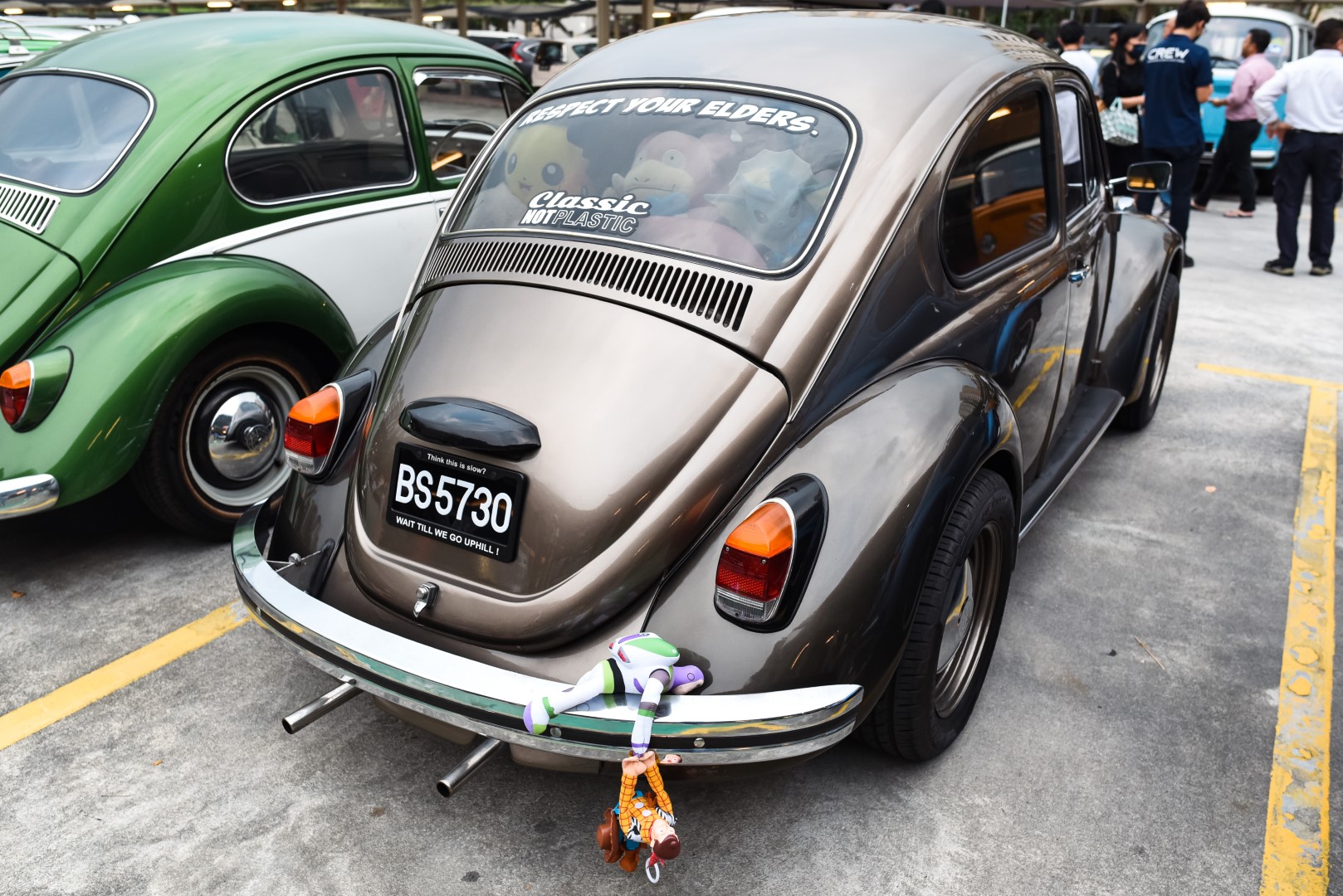 The 29-year-old endured a three-year long wait to place his hands on the beige steering wheel of his VW Beetle. Darren is a two-day old member of his local VW Beetle group and cheekily marks his car with Woody and Buzz Lightyear toys gripping the bumper for their dear lives! He looks forward to a younger generation of enthusiasts joining him in his passion for the beloved classic.
"I designed it, made it and put it together myself." – T.C. Khoo
Khoo is an enthusiastic tinkerer, fashioning parts for his Beetle himself (and stamping his name on them too!). Being a Beetle owner for 11 years, he has taught himself to make modifications using original designs and does his best to let people know Malaysians are pretty good with their hands.
"We got married in an earlier model, but this one would have been better – it's pink!" – Ruby and Kelvin
Ruby first fell in love with the Beetle after seeing it on a calendar while in high school, and Kelvin promised her to get one – a pink one. The happy couple got married in Teng Sen's Kombi, and Kelvin lived up to his promise, helping Ruby become the proud owner of a 2009 VW Beetle.
"I hope we can pass this passion down to the next generation, and keep it alive, even though we are heading towards electric cars. It's a community." – Khoo Teng Sen
Teng Sen, who describes himself as just a VW fan, is a Malaysian World Book of Records holder for owning the largest number of VW miniature toys and memorabilia. The nucleus of multiple VW Beetle fan groups, Teng Sen has been organising 22nd June gatherings since 2015 and celebrates the beauty of people coming together, sharing their passion despite language barriers and economic status. He strives for a stronger community and familial bonds through the love for VW Beetles.
This gathering is CITTA Mall's inaugural World Beetle Day gathering, supported by Chizu, A Beauty Secret Studio, Para Thai and Mee Hiris China Muslim.
Photo Gallery: